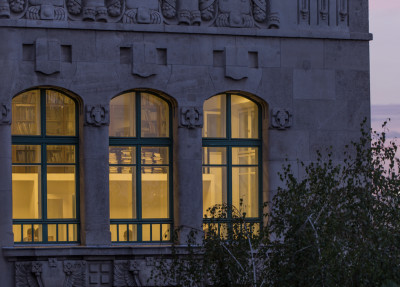 Mission Statement of the Department of Public Building Design
Community architecture is our passion.
The ars-poetica of our architecture education is based on intensive collaboration between our students and tutors. Among our former and current colleagues, the invited architect tutors and students, we can find excellent contemporary architects, with prestigious community buildings honored by several national and international awards. The individual vision of our architect-professors enriches our educational philosophy, yet as a school of architecture with a rich tradition, we try to represent a unified approach at different levels of undergraduate and graduate education.
We follow the community architecture in a triple conceptual system of memory, sustainability, and innovation both in theory and in everyday practice. We represent fundamental and relevant issues and design attitudes in our training, research, and creative work with these approaches. Our built and cultural heritage is as much a focus of our attention as it is essential to support the users of community spaces respecting sustainability or to research and cultivate innovative, experimental, and progressive endeavours.
Our responsibility is to provide the liberal artistic character of architectural education in an inspiring collaboration with relevant engineering disciplines. We position ourselves as a leading regional workshop that substantially shows the cultural embedding of architecture in the Central and Eastern European areas. Our department's open-minded, receptive team is searching and waiting for students, architects, dedicated representatives of other fields of art and science, from the university or out of it, domestic or international partners to join our work.
Budapest September 2020
Professor Szabó Levente DLA
Head of Department
Ybl Miklós and Pro Architectura Award-winning architect